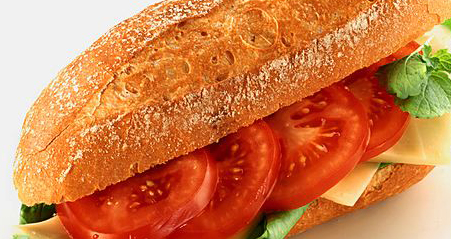 SANDWICHES
Don Giovanni's
Small $ 7.55 / Large $ 10.71
Roast beef (hot or cold)
Da God Father
Small $ 6.48 / Large $ 9.48
Genoa salami, mortadella, capicolla ham
Veggies from Heaven
Small $ 6.64 / Large $ 9.58
Roasted peppers, zucchini & vinaigrette dressing
Pavarazzi Club
Small $ 7.32 / large $ 10.71
Breast of chicken, cheese, bacon
Capriccosa Sandwich
Small $ 7.98 / large $ 10.98
Cheese, ham & grilled mushrooms
Philly Steak
Small $ 7.32 / large $ 10.71
Green peppers, onions, steak
Choice of cheese, onions, lettuce, tomatoes, pickles, sweet or hot peppers, green or black olives. Choose from regular or dijon mustard, mayonnaise, honey mustard and herb vinaigette dressings.
Super Mario
Small $ 7.32 / Large $ 10.71
Meat sauce, meatballs, lots of cheese
All above sandwiches served with choice of white or whole wheat baguette.
Veal Parmigiana $ 10.79 - Chicken Parmigiana $ 10.79
Updated 26.06.18
Make your sandwich a platter— add $ 2.25.
Platters include your choice of regular or spicy fries or a fresh garden or Caesar salad.
491 Somerset West
At Lyon
Tel : 613.233.2320